Originally established in 1999 as a Theme Camp at Burning Man in the Nevada Black Rock Desert, Death Guild Thunderdome grew out of one of the longest running gothic night clubs (Death Guild) in San Francisco. DGTD was intended to "provide a place for some good music" at the Burning Man event, primarily as an alternative to the rave culture at the time. Taking its cue from the famous Mad Max series of post-apocalyptic films, Death Guild Thunderdome erects a geodesic dome as an arena for "fights" to take place, hangs bungees from the top with harnesses for participants to be strapped into, and provides foam boffer "weapons" to each "fighter." Participants swing through the Dome, pummeling each other while the music blares and camp members provide a post-apocalyptic ambiance and theatrical experience.
For over twenty years, Death Guild Thunderdome has attended Burning Man and more recently has also become a feature of the Wasteland Weekend event in California's Mojave Desert. Death Guild Thunderdome occasionally puts on shows at outdoor events like Knotfest in Burbank and Ghost Ship Halloween in San Francisco.
The members of Death Guild Thunderdome are a diverse crew with occupations varying from doctors to mechanics, filmmakers to scientists, dancers to tech-industry executives. We all come together to create a shared art experience through the Thunderdome and its associated performance art.
Although originally started in the San Francisco Bay Area, members now also hail from all over North America, and as far away as London, England.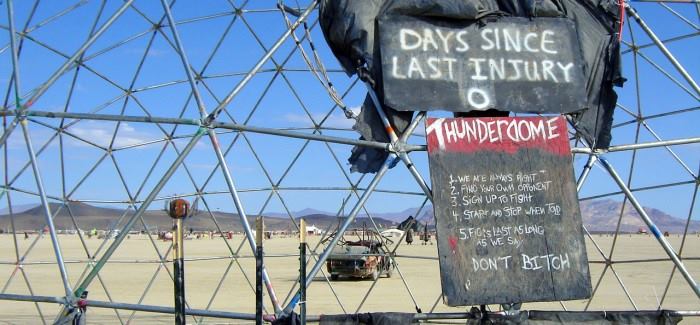 The Rules for participation in Death Guild Thunderdome are simple:
Bring your own opponent, we will not provide one for you.
Fights last as long as we say.
We are always right.
Don't bitch.
And when the sign goes on, come line up to fight.
Read 2022 DGTD participation rules below or linked here.
---
Pinned Blog Posts
Miss us at the burn? Want more? You're in luck because one dusty desert event wasn't enough for us and we're going to Wasteland Weekend as well!

Here are some important logistical details for those of you interested in being able to participate:

💀💀💀 SIGN UP BEFORE 11:59PM PST SATURDAY 9/24

Seriously, if you don't fill out the disclaimer form by September 25 (the Sunday before the event) YOU WILL NOT BE ABLE TO PARTICIPATE.
Not sure if you've filled out the form already? Search "2022 death guild participant sign-up form" in your email's inbox.

💀💀💀 ATTEND ONE OF OUR BASIC TRAINING SESSIONS DURING WASTELAND

Held inside the dome Thursday 9/29 and Friday 9/30 at 5pm and Saturday 10/1 at 4pm. You'll also get an email with more details before the event if you sign up.
This is for legal reasons and also so you don't fuck yourself up in the dome. It won't take long and you'll get a wristband that proves you went to a training session. Once you have your wristband you can go as many times as you'd like throughout the weekend. No wristband no dome time.

💀💀💀 TELL YOUR FRIEND(S) TO SIGN UP TOO IF YOU WANNA GO AGAINST EACH OTHER.

We're not in charge of playing matchmaker, so share the form link & have them show up to training.
If you end up never setting foot in the dome that's totally fine. Better to sign up and go to a training session so you can get your wristband than miss out once you see how fun it is.

💀💀💀 A FEW NEW THINGS WE NEED FROM YOU THIS YEAR TO PARTICIPATE

For OUR safety and yours, fighters will be asked to wear a mask while in line and up to getting strapped up for your battle! Please bring your own KN95 or N95!
Please don't come to fight if you have covid-19 symptoms, are running a fever, have a rash or sores on your face, hands or crotch! Get that shit checked out!
YOU MUST WEAR UNDERWEAR. No exceptions. Keep your crotch off our junk! (*some exceptions, outside the dome, apply)
Want to bring us a gift? We love gifts! And we love to be nice to people who give us gifts! Unopened bottles of booze, WEARING YOUR OWN KN95/N95 mask, or showing us a copy of your vaxxed and boosted card are always appreciated and help your wait to fight get a little shorter!

See you in the wastes,

Death Guild Thunderdome Crew 💀🤘🤘

 

Read more

Black Lives Matter

We stand against racism and police brutality.

We support equality and fairness for all.

Listen on! This is the truth of it…

Read more
---